Frenched Headlight Trim Ring Chrome 5 3/4 Tab Style

Sale
$33.99

Regular price

$39.95

6 available
Vendor: HARDDRIVE
Type:
Sku: 820-0322
In Stock
Currently there are
peoples are currently looking at this product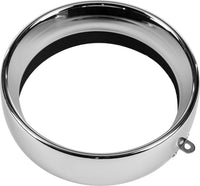 Frenched Headlight Trim Ring Chrome 5 3/4 Tab Style
$33.99

Features:
Add a custom look to your stock headlight with these extended trim rings. Available in chrome or gloss black. They replace the OEM trim ring. Sold each except for passing lamp trim rings that are sold in a set.
Fitment:
Harley-Davidson FLSTS Softail Heritage Springer 1997
Harley-Davidson FLSTS Softail Heritage Springer 1998
Harley-Davidson FLSTS Softail Heritage Springer 1999
Harley-Davidson FLSTS Softail Heritage Springer 2000
Harley-Davidson FLSTS Softail Heritage Springer 2001
Harley-Davidson FLSTS Softail Heritage Springer 2002
Harley-Davidson FLSTS Softail Heritage Springer 2003
Harley-Davidson FXDLS Dyna Low Rider S 2016
Harley-Davidson FXDLS Dyna Low Rider S 2017
Harley-Davidson FXSE CVO Softail Pro Street Breakout 2016
Harley-Davidson FXSE CVO Softail Pro Street Breakout 2017
Harley-Davidson FXSTD Softail Deuce 2000
Harley-Davidson FXSTD Softail Deuce 2001
Harley-Davidson FXSTD Softail Deuce 2002
Harley-Davidson FXSTD Softail Deuce 2003
Harley-Davidson FXSTD Softail Deuce 2004
Harley-Davidson FXSTD Softail Deuce 2005
Harley-Davidson FXSTD Softail Deuce 2006
Harley-Davidson FXSTD Softail Deuce 2007
Harley-Davidson FXSTDSE CVO Softail Deuce 2003
Harley-Davidson FXSTDSE CVO Softail Deuce 2004
Harley-Davidson FXSTS Softail Springer 1993
Harley-Davidson FXSTS Softail Springer 1994
Harley-Davidson FXSTS Softail Springer 1995
Harley-Davidson FXSTS Softail Springer 1996
Harley-Davidson FXSTS Softail Springer 1997
Harley-Davidson FXSTS Softail Springer 1998
Harley-Davidson FXSTS Softail Springer 1999
Harley-Davidson FXSTS Softail Springer 2000
Harley-Davidson FXSTS Softail Springer 2001
Harley-Davidson FXSTS Softail Springer 2002
Harley-Davidson FXSTS Softail Springer 2003
Harley-Davidson FXSTS Softail Springer 2004
Harley-Davidson FXSTS Softail Springer 2005
Harley-Davidson FXSTS Softail Springer 2006
Harley-Davidson XL1200C Sportster 1200 Custom 1996
Harley-Davidson XL1200C Sportster 1200 Custom 1997
Harley-Davidson XL1200C Sportster 1200 Custom 1998
Harley-Davidson XL1200C Sportster 1200 Custom 1999
Harley-Davidson XL1200C Sportster 1200 Custom 2000
Harley-Davidson XL1200C Sportster 1200 Custom 2001
Harley-Davidson XL1200C Sportster 1200 Custom 2002
Harley-Davidson XL1200C Sportster 1200 Custom 2003
Harley-Davidson XL1200C Sportster 1200 Custom 2004
Harley-Davidson XL1200C Sportster 1200 Custom 2005
Harley-Davidson XL1200C Sportster 1200 Custom 2006
Harley-Davidson XL1200C Sportster 1200 Custom 2007
Harley-Davidson XL1200C Sportster 1200 Custom 2008
Harley-Davidson XL1200C Sportster 1200 Custom 2009
Harley-Davidson XL1200C Sportster 1200 Custom 2010
Harley-Davidson XL1200C Sportster 1200 Custom 2011
Harley-Davidson XL1200C Sportster 1200 Custom 2012
Harley-Davidson XL1200C Sportster 1200 Custom 2013
Harley-Davidson XL1200C Sportster 1200 Custom 2014
Harley-Davidson XL1200C Sportster 1200 Custom 2015
Harley-Davidson XL1200C Sportster 1200 Custom 2016
Harley-Davidson XL1200C Sportster 1200 Custom 2017
Harley-Davidson XL1200C Sportster 1200 Custom 2018
Harley-Davidson XL1200C Sportster 1200 Custom 2019
Harley-Davidson XL1200V Seventy Two 2012
Harley-Davidson XL1200V Seventy Two 2013
Harley-Davidson XL1200V Seventy Two 2014
Harley-Davidson XL1200V Seventy Two 2015
Harley-Davidson XL1200V Seventy Two 2016
Harley-Davidson XL883C Sportster 883 Custom 1999
Harley-Davidson XL883C Sportster 883 Custom 2000
Harley-Davidson XL883C Sportster 883 Custom 2001
Harley-Davidson XL883C Sportster 883 Custom 2002
Harley-Davidson XL883C Sportster 883 Custom 2003
Harley-Davidson XL883C Sportster 883 Custom 2004
Harley-Davidson XL883C Sportster 883 Custom 2005
Harley-Davidson XL883C Sportster 883 Custom 2006
Harley-Davidson XL883C Sportster 883 Custom 2007
Harley-Davidson XL883C Sportster 883 Custom 2008
Harley-Davidson XL883C Sportster 883 Custom 2009