Speedy Pushrod Kit W/Covers Evo Bt 84 99

Sale
$296.99

Regular price

$349.95
Vendor: ROCKET CAMS
Type:
Sku: 276-02051
In Stock
Currently there are
peoples are currently looking at this product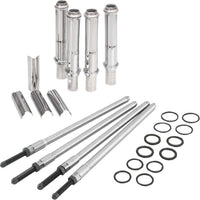 Speedy Pushrod Kit W/Covers Evo Bt 84 99
$296.99
These Speedy pushrods can be both installed and removed easily. The Rocket Cams design permits a simple, trouble free installation that does not require removal of the gas tank, rocker assemblies, or even the rocker box cover! The threaded adjuster screws into the pushrod until the threads disengage and the adjuster simply slides into the pushrod, making installation or removal a snap. Super strong chromoly steel reduces pushrod flex. Works with stock and aftermarket cams.
Fitment:
Harley-Davidson FLST Softail Heritage 1986
Harley-Davidson FLST Softail Heritage 1987
Harley-Davidson FLST Softail Heritage 1988
Harley-Davidson FLST Softail Heritage 1989
Harley-Davidson FLST Softail Heritage 1990
Harley-Davidson FLSTC Softail Heritage Classic 1988
Harley-Davidson FLSTC Softail Heritage Classic 1989
Harley-Davidson FLSTC Softail Heritage Classic 1990
Harley-Davidson FLSTC Softail Heritage Classic 1991
Harley-Davidson FLSTC Softail Heritage Classic 1992
Harley-Davidson FLSTC Softail Heritage Classic 1993
Harley-Davidson FLSTC Softail Heritage Classic 1994
Harley-Davidson FLSTC Softail Heritage Classic 1995
Harley-Davidson FLSTC Softail Heritage Classic 1996
Harley-Davidson FLSTC Softail Heritage Classic 1997
Harley-Davidson FLSTC Softail Heritage Classic 1998
Harley-Davidson FLSTC Softail Heritage Classic 1999
Harley-Davidson FLSTF Softail Fat Boy 1990
Harley-Davidson FLSTF Softail Fat Boy 1991
Harley-Davidson FLSTF Softail Fat Boy 1992
Harley-Davidson FLSTF Softail Fat Boy 1993
Harley-Davidson FLSTF Softail Fat Boy 1994
Harley-Davidson FLSTF Softail Fat Boy 1995
Harley-Davidson FLSTF Softail Fat Boy 1996
Harley-Davidson FLSTF Softail Fat Boy 1997
Harley-Davidson FLSTF Softail Fat Boy 1998
Harley-Davidson FLSTF Softail Fat Boy 1999
Harley-Davidson FLSTN Softail Heritage Special 1996
Harley-Davidson FLSTN Softail Nostalgia 1993
Harley-Davidson FLSTN Softail Nostalgia 1994
Harley-Davidson FLSTN Softail Nostalgia 1995
Harley-Davidson FLSTS Softail Heritage Springer 1997
Harley-Davidson FLSTS Softail Heritage Springer 1998
Harley-Davidson FLSTS Softail Heritage Springer 1999
Harley-Davidson FLTC Tour Glide Classic 1984
Harley-Davidson FLTC Tour Glide Classic 1985
Harley-Davidson FLTC Tour Glide Classic 1986
Harley-Davidson FLTC Tour Glide Classic 1987
Harley-Davidson FLTC Tour Glide Classic 1988
Harley-Davidson FLTC Tour Glide Classic 1989
Harley-Davidson FLTC Tour Glide Classic 1990
Harley-Davidson FLTC Tour Glide Classic 1991
Harley-Davidson FLTC Tour Glide Classic 1992
Harley-Davidson FLTC Tour Glide Classic 1993
Harley-Davidson FLTCU Ultra Classic Tour Glide 1989
Harley-Davidson FLTCU Ultra Classic Tour Glide 1990
Harley-Davidson FLTCU Ultra Classic Tour Glide 1991
Harley-Davidson FLTCU Ultra Classic Tour Glide 1992
Harley-Davidson FLTCU Ultra Classic Tour Glide 1993
Harley-Davidson FLTCU Ultra Classic Tour Glide 1994
Harley-Davidson FLTCU Ultra Classic Tour Glide 1995
Harley-Davidson FLTCU Ultra Classic Tour Glide 1996
Harley-Davidson FXD Dyna Super Glide 1995
Harley-Davidson FXD Dyna Super Glide 1996
Harley-Davidson FXD Dyna Super Glide 1997
Harley-Davidson FXD Dyna Super Glide 1998
Harley-Davidson FXDB-D Dyna Glide Daytona 1992
Harley-Davidson FXDB-S Dyna Glide Sturgis 1991
Harley-Davidson FXDC Dyna Super Glide Custom 1992
Harley-Davidson FXDL Dyna Low Rider 1993
Harley-Davidson FXDL Dyna Low Rider 1994
Harley-Davidson FXDL Dyna Low Rider 1995
Harley-Davidson FXDL Dyna Low Rider 1996
Harley-Davidson FXDL Dyna Low Rider 1997
Harley-Davidson FXDL Dyna Low Rider 1998
Harley-Davidson FXDS-Conv Dyna Convertible 1994
Harley-Davidson FXDS-Conv Dyna Convertible 1995
Harley-Davidson FXDS-Conv Dyna Convertible 1996
Harley-Davidson FXDS-Conv Dyna Convertible 1997
Harley-Davidson FXDS-Conv Dyna Convertible 1998
Harley-Davidson FXDWG Dyna Wide Glide 1993
Harley-Davidson FXDWG Dyna Wide Glide 1994
Harley-Davidson FXDWG Dyna Wide Glide 1995
Harley-Davidson FXDWG Dyna Wide Glide 1996
Harley-Davidson FXDWG Dyna Wide Glide 1997
Harley-Davidson FXDWG Dyna Wide Glide 1998
Harley-Davidson FXRD Grand Touring 1986
Harley-Davidson FXST Softail 1984
Harley-Davidson FXST Softail 1985
Harley-Davidson FXST Softail 1986
Harley-Davidson FXST Softail 1987
Harley-Davidson FXST Softail 1988
Harley-Davidson FXST Softail 1989
Harley-Davidson FXST Softail 1990
Harley-Davidson FXST Softail 1999
Harley-Davidson FXSTB Softail Night Train 1999
Harley-Davidson FXSTC Softail Custom 1986
Harley-Davidson FXSTC Softail Custom 1987
Harley-Davidson FXSTC Softail Custom 1988
Harley-Davidson FXSTC Softail Custom 1989
Harley-Davidson FXSTC Softail Custom 1990
Harley-Davidson FXSTC Softail Custom 1991
Harley-Davidson FXSTC Softail Custom 1992
Harley-Davidson FXSTC Softail Custom 1993
Harley-Davidson FXSTC Softail Custom 1994
Harley-Davidson FXSTC Softail Custom 1995
Harley-Davidson FXSTC Softail Custom 1996
Harley-Davidson FXSTC Softail Custom 1997
Harley-Davidson FXSTC Softail Custom 1998
Harley-Davidson FXSTC Softail Custom 1999
Harley-Davidson FXSTS Softail Springer 1988
Harley-Davidson FXSTS Softail Springer 1989
Harley-Davidson FXSTS Softail Springer 1990
Harley-Davidson FXSTS Softail Springer 1991
Harley-Davidson FXSTS Softail Springer 1992
Harley-Davidson FXSTS Softail Springer 1993
Harley-Davidson FXSTS Softail Springer 1994
Harley-Davidson FXSTS Softail Springer 1995
Harley-Davidson FXSTS Softail Springer 1996
Harley-Davidson FXSTS Softail Springer 1997
Harley-Davidson FXSTS Softail Springer 1998
Harley-Davidson FXSTS Softail Springer 1999
Harley-Davidson FXSTSB Softail Bad Boy 1995
Harley-Davidson FXSTSB Softail Bad Boy 1996
Harley-Davidson FXSTSB Softail Bad Boy 1997